Editorial
Dear Reader, Dear Members and Friends,
With the election of Donald Trump for President, the United States' trade policy has come under possible scrutiny. Both sides of the Atlantic depend on free trade: on one hand the USA is still the biggest foreign market for Bavaria, on the other hand 4,700 companies and 670,000 jobs in the US directly depend on German investments. In order to analyze new developments and opportunities for companies under the Trump administration, vbw invited experts from both countries to a Round Table discussion in Munich on March 9. In February, Munich also became the venue of the internationally renowned Munich Security Conference. An opportunity, vbw seized to discuss the need of a security policy 4.0. Given this background, I invite you to an interesting read.
Bertram Brossardt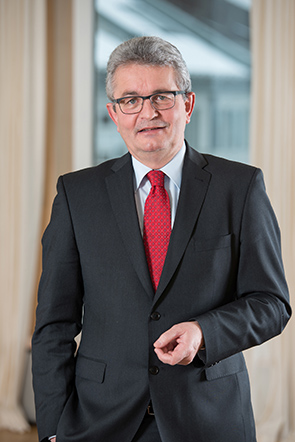 Innovation + technology
GamifyConference 2017 – the evolution of communication
Hosted by vbw and Gamify now, GamifyCon offered a platform for entrepreneurs to showcase their latest developments in gamification. By combining neuroscience, psychology and game-design-thinking, gamification is one way for companies to enhance their employees' motivation.
more
Events and international affairs
Terrorism and cyber-attacks – do we need a security policy 4.0?
On the occasion of the Munich Security Conference, vbw and BDI (The Voice of German Industry) invited about 200 representatives from trade and industry as well as government officials to discuss current security challenges for companies in Germany.
more